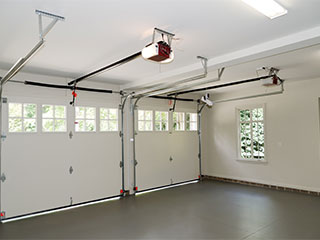 There are few things more frustrating than not being able to get in or out of your garage when you need to. If your garage door opener isn't operating the way that it is supposed to, give our experts in a call for help. We'll uncover the problem and get your opener operating normally again as soon as possible.
Down Switch Limit
Garage door openers will sometimes close partially and then stop before reaching the ground. When this occurs, there is usually a problem with the down switch limit. We can fix this problem by measuring the distance from the ground and the door, and then by adjusting the switch limit. If this is the issue, your problem will be resolved quickly.
Door Closes and Immediately Opens
If your door makes it all of the way to the ground and then immediately opens back up again, then there may be a problem with sensor obstruction. If there isn't anything obviously in the way of the door, then there may be a malfunction in the unit. It's important that you call us right away so that we can rule out any electrical problems.
The Remote Isn't Working
Garage door openers will sometimes operate properly when the wall station is activated but not when you use the remote. This could indicate a transmission problem. This can occur for a number of reasons i.e. your neighbor using the same transmission frequency as you are. If you're experiencing this problem, we can diagnose and fix the issue quickly.
Your local professionals at Garage Door Repair Evanston have the experience and know how needed to figure out why your opener is not currently working properly. Without our expert help, the problem could escalate and head towards a complete breakdown. Don't risk larger problems later on - contact us today to book an appointment and get your door operating normally again!
You can also count on us for:
Garage Door Safety Inspections
Genie & Liftmaster Opener Repairs
Emergency Broken Spring Replacement
Broken Garage Door Track Repair